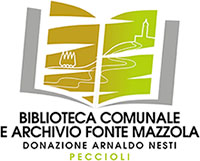 Comunal Library and Fonte Mazzola Archive
Arnaldo Nesti Donation


Founding libraries is somewhat like building public granaries: accumulating reserves against the winter of the spirit (Marguerite Yourcenar).
The Municipal Mediateca was founded in 2000 in the historic center of Peccioli on Via Matteotti, in a space of approximately 70 square meters. It was established with the intention of promoting the best conditions in the area to ensure public reading services and access to information through book lending services, animation initiatives, collaboration with educational institutions, the establishment of alternative reading paths, and seven free computer workstations.
Since 2007, thanks to the management of the Peccioli for Art Foundation, the activities of the Mediateca have expanded significantly, becoming increasingly ingrained in the community, promoting reading development for all age groups, and forming close collaborations with local educational institutions.
The library collection has grown to nearly 7,000 volumes, lending services have expanded through participation in the Bibliolandia network and interlibrary loans, new sections have been established: a music section through collaboration with the Alta Valdera Music Academy, a scientific-astronomical section through collaboration with the Alta Valdera Astrofili Association, a tactile consultation section for chiaroscuro works (bas-reliefs that faithfully reproduce famous artworks in three dimensions), and an audiobook section for users with reading difficulties (the elderly, dyslexic, visually impaired, blind, etc.). Continuous attention has been given to promoting reading through activities like Bibliogioco, Bookcrossing, and author meetings within the Peccioli school district.
Due to this development, it became necessary to allocate a larger and more suitable space for the place of culture, education, and study par excellence, not only in terms of size but also due to its splendid location. The Municipal Library and Fonte Mazzola Archive, inaugurated on January 26, 2019, with its 400 square meters, now houses not only the library collection of the Mediateca but also the valuable collection of Professor Arnaldo Nesti, which comprises over 9,000 volumes, including 600 dedicated to Tuscan culture.
Furthermore, the new library has expanded the services offered, starting with extended opening hours, a study room with a view of the beautiful hilly landscape that welcomes the Fonte Mazzola Amphitheater, a section dedicated to newspapers and magazines all available online through free access to a special consultation platform, reading animations, workshops, and games for children and their parents, writing courses for both young and adult participants, activities of the Readers' Circle, a rich program of author meetings, conferences, seminars, and symposiums.